Antipsychotic Medication Haloperidol
Haloperidol goes by the trade name Haldol which is a popular atypical antipsychotic medication. It is popularly used for the treatment of schizophrenia, mania in bipolar disorder, Tourette's syndrome, vomiting and nausea, acute psychosis, agitation, and hallucination occurring in alcohol withdrawal. It can be administered in different ways to the individual. The action of the drug takes about 30 minutes to kick in. A long-acting formulation is used in case of people who have schizophrenia to let the effects of the drug to remain for about four weeks. This formulation can also be given to those who do not agree on taking the drug orally.
At times, this drug can bring about a movement disorder called tardive dyskinesia which is permanent in nature. Older people have an increased risk of dying due to the use of this drug. Paul Janssen was the first to discover this drug in the year 1958. It is also mentioned in the World Health Organization's List of Essential Medicines.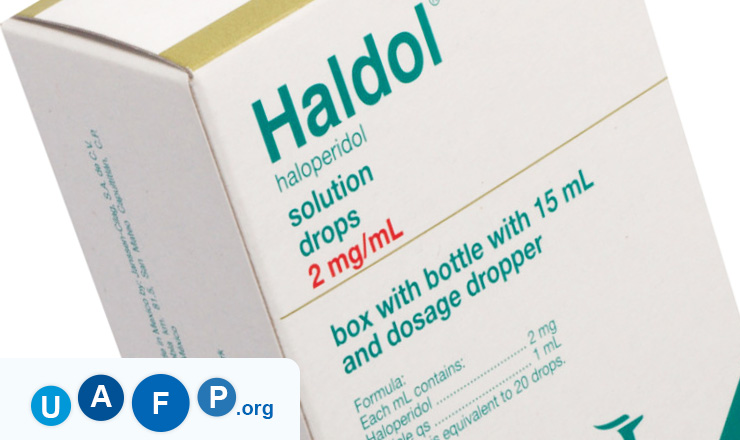 Uses of Haloperidol
Haloperidol is used for the treatment of mood and mental disorders like schizoaffective disorders and schizophrenia. This medication helps the individual think clearly without feeling nervous than he/she used to feel before. This allows the individual to take part in his/her daily life chores. It has also been found useful for preventing suicides among people who can harm themselves. It also has a significant effect on reducing the desire to hurt others. It can reduce hallucinations and negative thoughts as well.
In case of Tourette's syndrome, it can be helpful in treating the uncontrolled movements or tics. Severe behavioural problems in hyperactive children can be treated using this drug if other medications prove to be ineffective.
Haloperidol majorly aims to restore the imbalance in the natural chemicals in the central nervous system.
Side effects of Haloperidol
Many patients have reported the incidence of side effects along with the use of this drug. Some of the side effects are mentioned below:
Twisting body movements
Shuffling walk
Mask-like face
Unable to move the difficult in swallowing or speaking
Losing balance control
Shaking or trembling of the hands and fingers
Weakness of the legs and arms
Skin rash
Confusion
Decreased thirst
Lip puckering or smacking
Lightheadedness, fainting, or dizziness
Uncontrolled chewing movements
Fast or difficult breathing
Seizures or convulsions
Fever or sore throat
Yellow skin or eyes
Muscle stiffness
Contraindications of Haloperidol
Some conditions may restrict the use of this medication to patients. Some of the common conditions are listed below:
Breast cancer
Liver problems
Seizures
Coma
Parkinson symptoms
Angina
Neuroleptic Malignant Syndrome
Decreased Lung Function
Pregnancy and Haloperidol
The FDA assigned this medication to the pregnancy category C in both Australia and the United States. This indicates that this drug is not safe for pregnant women and their unborn child.
Mode of Ingestion
The drug can be administered orally, intravenously, or intramuscularly to the patient.
Health Information Articles